Attic And Roof Ventilation Services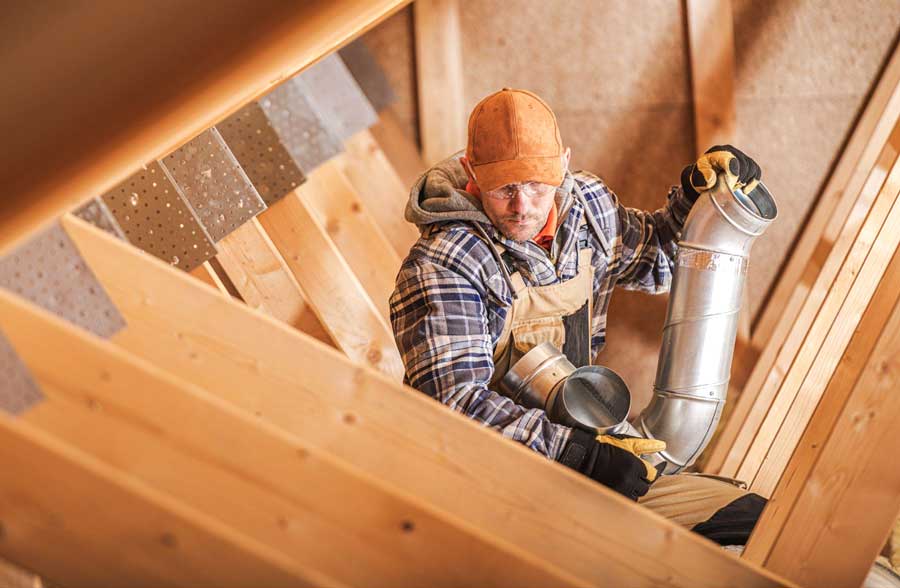 Attic ventilation both brings air into the attic and allows air to escape from the attic. Since roofs face the sun, they build up considerable heat in the warm season. Attic ventilation provides an outlet for this heat gain, and it allows fresh air to enter the attic. To add proper ventilation to your home, intake vents will often be added along the soffit while exhaust vents will be placed high at the roof ridge. This allows the continuous flow of fresh air through space while allowing stale, hot air and excess moisture to escape your attic at the same time.
We offer a variety of solutions for attic ventilation.
Adding air intake around the perimeter of the home around the Eaves.

Exhaust ventilation; exhaust cans and ridge vents.

For vaulted ceilings and cathedral ceilings, we suggest a Cold Roof System.

Ridge vent ventilation… and more!
Proper attic ventilation is incredibly important for any home.
After all, as stated before, it allows excess heat and moisture to escape your attic. This prevents your shingles from being baked from the inside, allowing them to last longer than their expected lifespan. Apart from that, if you live in an area that sees snow and ice during the winter season, proper attic ventilation also prevents ice dams from forming on your roof edge, protecting the roofing system from water damage in the long run.
Contact us Today to Speak With an Attic And Roof Ventilation Insulation Estimator
At Deschutes Roofing & Insulation, our roofing services include the installation of new insulation and evaluating and installing ventilation. Call Deschutes Roofing & Insulation at (541) 313-5944 or fill out our contact form for an appointment with one of our insulation estimators.
Now Servicing: Bend, Redmond, Sisters, Sunriver, La Pine, Madras, and Prineville.