HOW DESCHUTES ROOFING & INSULATION IS DIFFERENT FROM OUR COMPETITORS
Frigid winters and scorching summers in Central Oregon can be brutal on your roof. Snow, ice dams, wind storms, ice, rain, and extreme temperatures will put your roof to the test. You will quickly find out if corners were cut. Unfortunately, most people discover the shortcomings only when they develop a leak, or when they find shingles in their yard that are supposed to be attached to the roof. However, there is something you can do to help prevent disasters like these from happening.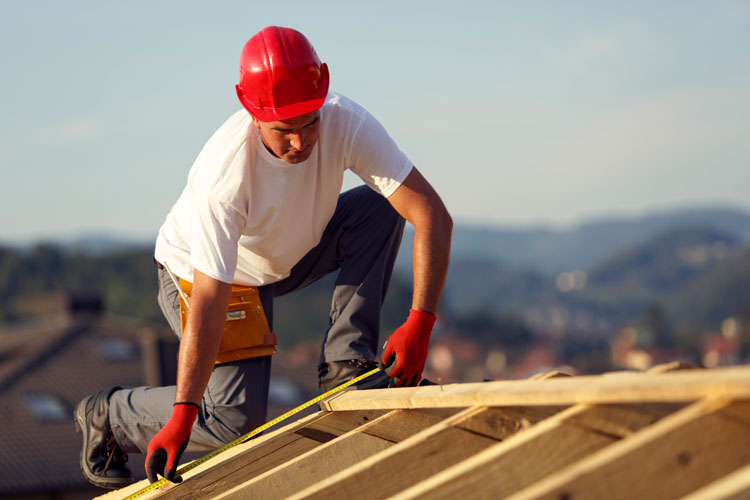 At Deschutes Roofing & Insulation we go beyond "minimum code" requirements and install our roofs according to what the climate demands. We do our best to prevent future damage and extend the life of your new roof for as long as possible. You will feel secure knowing that we enforce specific procedures to protect your home and family by:
Installing your new roof according to code as well as the manufacturers' guidelines.
Installing extra ice and water shield along the eaves and up the valleys where ice dams form.
Using nails instead of staples to secure the shingles to the roof.
Making sure your attic is properly ventilated, which helps prevent ice dams during the winter and keeps your home cooler during the summer.
Taking these extra steps may seem like common sense, but it is surprising to see how often they are overlooked in the name of saving money. Of course, any savings are wasted when you must pay for extra repairs or replace your roof years before it should be necessary. Furthermore, most roofing companies never even address ventilation at all because they are not knowledgeable or do not choose to take the extra time to make the proper calculations. Proper ventilation is critical to the life of your roof and we will not ignore this.
Here Are 13 More Reasons To Choose Deschutes Roofing & Insulation:
1. We will beat any legitimate competitor's offer. Just provide us a detailed bid from a local licensed and fully insured roofing company that has been in business for at least five years so we can compare materials and price and give you the best offer. It's that easy!
2. We are a GAF Master Elite Contractor. Only 2% of all roofing contractors in the United States have earned this distinction. Master Elite contractors represent the top echelon of roofers in the country and are hand-picked for their exceptional workmanship, consistency, reliability and integrity. Furthermore, Master Elite contractors can offer the Golden Pledge Warranty – GAF's highest extended warranty which includes a 25-year workmanship warranty and a 50-year product warranty.
3. We offer up to a 30-year workmanship warranty with a 50-year product warranty. Choose our Golden Pledge Warranty and enjoy the complete peace of mind that comes with knowing that our workmanship is guaranteed for up to 30 years by GAF, the largest and most trusted roofing manufacturer in the world. Most other roofing contractors will only guarantee their work for 2 to 5 years. After that, you're on your own. Don't make the mistake of skimping on the most important and most variable element of your new roof – the workmanship. And even if you choose not to extend your warranty, we will still guarantee all our work for 10 years. That gives your roof a decade to test the quality of our work against all that Mother Nature can throw at it.
4. We are fully Licensed, Insured and Bonded for the protection of your home and family. An unusually low price from another company may mean insufficient coverage. If a company is missing workers' compensation insurance, the homeowner can be sued if an employee is injured or dies on the job. Copies of these documents are available upon request.
5. We offer the New Roof No Mess® guarantee. Instead of relying on just tarps and plywood to protect your property from tons of roof debris and nails, we use the Equipter RB4000 mobile dumpster to catch debris before it even hits the ground. With its narrow profile we can maneuver it around your property and its extra wide tires are gentle on your lawn. Now replacing your roof is no longer a messy process.
6. We can replace most roofs in just one day, offering minimal disruption to your life. By the time you return from work your property will look as clean as when you left that morning.
7. We use only high quality materials. From the underlayment to the nails and shingles we never skimp on the quality of our materials just to save a buck. Other roofers sometimes use "contractor grade" materials, which is simply code for "cheap". Your roof has to last you as long as possible and we will not jeopardize the longevity of your roof just to impress you with a lower bid.
8. We have a full office staff to support you, including field and account managers to help before and after the installation of your new roof.
9. We will work with your insurance company to help get your roof repaired or replaced and to maximize your insurance claim payout.
10. We offer $500 in military discounts*. If you have served our country as a member of the US Armed Forces we will give you $250 off the purchase of a new roof. And if you choose GAF shingles to replace your roof, GAF will match that discount with a $250 rebate. That's up to $500 off a new roof! Once your new GAF roof is installed, just click here to apply.
11. We offer a 3% discount to all seniors*. If you're 65 or older we'll give you an additional 3% off your roof replacement, up to $500. We appreciate your contribution to our society and want you to know it.
12. We offer 100% financing (O.A.C.) with easy monthly payments. Get qualified in under 10 minutes.
13. We have more 5-Star Google Reviews than any other roofing company in Bend, Oregon. Just google "Deschutes Roofing Bend Oregon" and see for yourself.
*The $250 military discount cannot be combined with the 3% senior discount nor any other discount. If you qualify for more than one discount we will give you whichever discount is worth the most.