About Our Metal Roofing
Deschutes Roofing & Insulation offers two types of metal roofing: exposed fastener (AKA barn style) and hidden fastener (AKA standing seam or vertical seam).
Perhaps the holy grail of all roofs, which does excellent under all weather conditions and can last for well over 50 years, is the metal roof.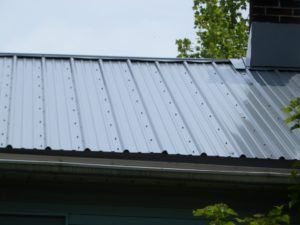 Exposed Fastener Metal Roofing
Exposed fastener metal roofing comes in 3 foot wide sheets that overlap at the raised ends known as "ribs". It's more economical but requires more maintenance because the rubber grommets on each screw (fastener) eventually wear out and must be replaced. The metal is usually 29 gauge thick.
Hidden Fastener Metal Roofs
Hidden fastener metal roofing is available in 12, 16, or 20 inch wide sheets and is connected by mechanically seaming or crimping the end seams together. It's more costly but is virtually maintenance-free and can last 40 – 70 years. This metal roofing is much thicker at 26 or 24 gauge.
Standing Seam Metal Roofing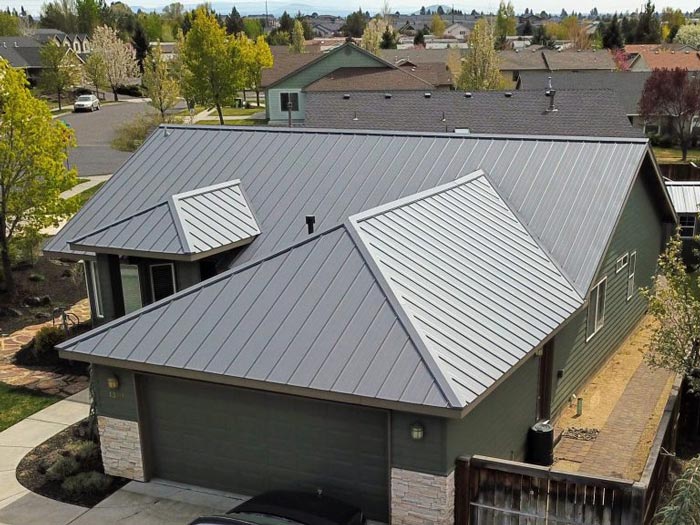 Standing seam metal roofs require very little maintenance over the years and very often outlive the people who installed them. You will notice that many commercial buildings in large cities with pitched roofs use standing seam metal roofing because of their longevity, beauty, and low maintenance.
Snap-Lock Metal Roofing
There is also a "snap-lock" version of standing seam metal roofing which does not require crimping and simply uses friction to snap the panels together. Below the seams, the panels are attached to the roof deck with screws, but these are not visible.
For metal roofing services fill out our contact form or call Deschutes Roofing & Insulation (541) 241-5720 today to schedule an appointment.