Underfloor Insulation Installers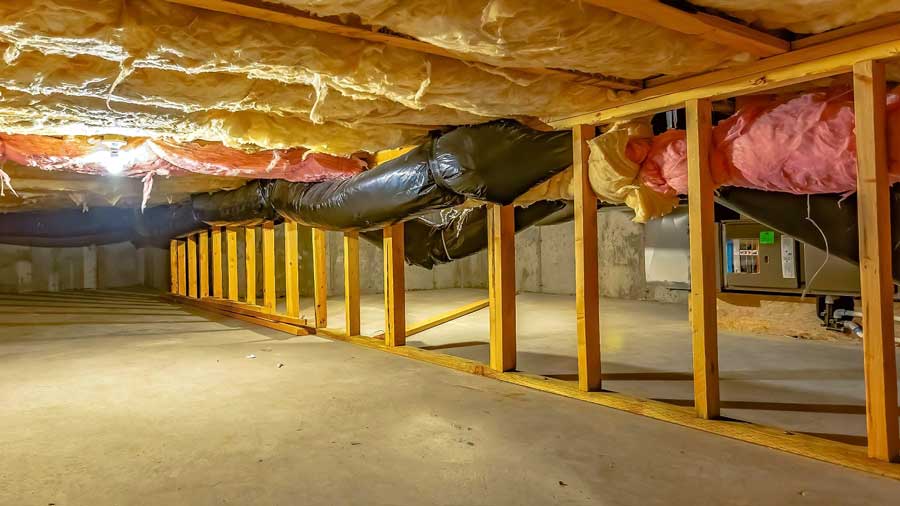 Crawlspaces are typically dark, musty places that people avoid. Although moisture issues in your ventilated dirt crawl space may go unnoticed, they can affect the indoor air quality and comfort of your home.
Air leaks in, causing the HVAC system to work harder to compensate. Excess moisture encourages mold, dust mite, and some insect and pest populations in most crawlspaces. In more severe cases, high moisture levels and condensation can cause wood rot and structural damage to the wood framing and insulation.
Benefits of Underfloor Insulation
Reduce home energy costs

Increase indoor air quality

Prevent moisture problems in the home

Greater home durability

Warmer floors (on the first floor)
Underfloor insulation is an important component of a moisture control and energy efficiency strategy for most Central Oregon homes. Our team of experienced insulation experts can assess the crawlspace and determine if underfloor insulation will effectively lower heating and cooling costs, increase comfort, and enable higher indoor air quality in your home!
Cleaner Indoor Air
Some common allergens thrive in crawl spaces, especially when humidity levels are high. For example, dust mites thrive in moist places, and dust mite droppings are a common allergy trigger.
Although surprising, the indoor air quality in Central Oregon homes is significantly affected by the crawl space because much of the air that occupants breathe on the first floor originated from below. This is because warmer air is buoyant and it pulls air in through the crawl and up into the living spaces above, especially in the heating season.
Greater Home Durability
High moisture levels and condensation in your crawlspace can take their toll on the wood and insulation in the crawlspace, causing rot and degradation. Some insects, including termites and carpenter ants, are attracted to and thrive in moist places. Lowering the humidity levels in the crawlspace with a moisture barrier during our crawlspace encapsulation process will help protect your home for many years to come.
Solving Moisture Problems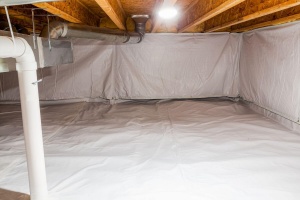 Crawlspace encapsulation begins by assessing if standing water is an issue. Then a heavy-duty plastic moisture barrier is installed, covering the floor and sealing the perimeter beams and piers. This creates a barrier between the ground and the air within your home.
The crawlspace is then insulated, in one of two approaches. Depending on the selected strategy, the crawlspace will either be a conditioned or unconditioned space. This involves insulating either the joists and walls (for a conditioned crawl space) or the crawl space ceiling (for an unconditioned crawl space).
Contact us Today to Speak With an Underfloor Insulation Estimator
At Deschutes Roofing & Insulation, our roofing services include the installation of new insulation and evaluating and installing ventilation. Call Deschutes Roofing & Insulation at (541) 313-5944 or fill out our contact form for an appointment with one of our insulation estimators.
Now Servicing: Bend, Redmond, Sisters, Sunriver, La Pine, Madras, and Prineville.