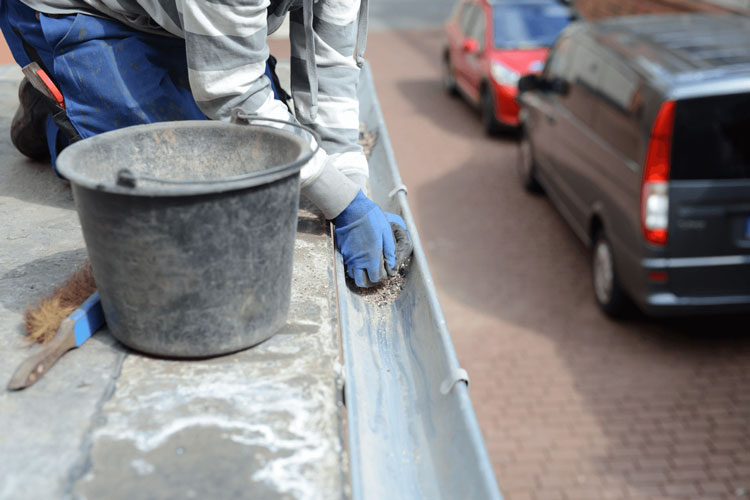 When you own a business, keeping the premises in great health is essential. Frankly, the importance of a structurally sound roof cannot be emphasized enough. After all, this single feature protects everything and everybody underneath while also influencing the air quality, temperature, and general conditions. Problems here will soon spread to impact the whole building too, which is why commercial roof maintenance requires your ongoing attention.
Here are five simple commercial roof maintenance steps to help keep your commercial roof in great health at all times.
1| Keep The Gutters Clear
Gutter blockages are a fairly common problem and can cause serious damage when they result in water seeping into the lower roofing. Likewise, water can damage the walls too. Thankfully, these issues can be prevented with regular gutter cleaning, which simply involves clearing leaves and other debris. There are plenty of snaking products on the market to help this happen while you can invest in gutter guards to stop larger items from entering them in the first place.
2| Treat The Plant Life
Trees and tall plants may look nice, but they can cause havoc if they overhang the roofing. The wind can cause branches to break off and damage the roof or continually hit the roof to harm the structure. Cut the branches back on a frequent basis to stay on top of the issue and consider getting rid of the largest and potentially most dangerous plant life altogether. You can always plant smaller items around other parts of the business premises to restore the atmosphere and beauty.
3| Understand Roof Drainage
Given that most commercial roofs are flat, the drainage is crucial. Otherwise, pooling water can cause significant problems including collapsed roofing. The installation of interior roof drains or scuppers can be used to supplement the gutters. Be sure to check that they are performing as expected, and keep them unblocked at all times. Simple decisions like opting for a bigger scupper will also help, as debris won't get stuck. Commercial roofing companies can help with this commercial roof maintenance.
4| Conduct Bi-Annual Inspections
Prevention is always the best form of protection, and commercial roofing contractors are often able to spot problems before they even become noticeable. Getting the commercial roofing structures inspected and analyzed every six months (usually in autumn and spring) ensures that loose shingles, broken tiles, and other damage can be spotted right away. Whether it's treating the chimney stacks, gutters or the ventilation systems doesn't matter. This is the best way to maintain control.
5| Treat Known Issues Immediately
Even the most comprehensive commercial roofing maintenance tips can't prevent all damage. Therefore, it's important to stay vigilant of leaks and other signs of damage. Act quickly by hiring an expert to complete the necessary commercial roofing services and you should be able to locate and treat the issues before they escalate into anything more serious. For the sake of your finances, assets, and sanity, the professional touch is the best route to take.
Keep your roofing in good health, and it'll have a positive impact on the entire building.
Don't hesitate to call Deschutes Roofing at (541) 241-5720 for any commercial roof maintenance or a free roof inspection.