Hailstorms can be dangerous and incredibly damaging to your roof and there's a chance you might need some hail damage repair. If you've just been through a particularly nasty hailstorm then your roof may be damaged, your windows may be broken and even your car could be damaged if it's parked outside. Dealing with the aftermath of a hailstorm can be frustrating and even dangerous, so here are a couple of tips on what you should do immediately following one.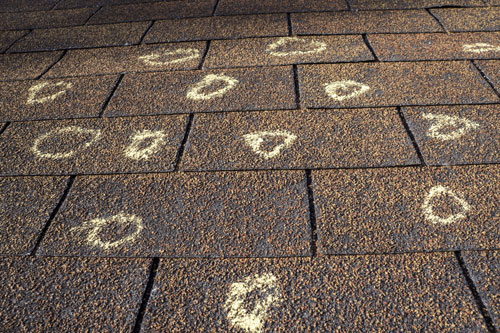 Safety Should Be Your First Priority
If your windows have been shattered or there are any loose bits of glass around then make sure to not walk around the house barefoot as you sweep up any shattered glass or debris. If the storm also knocked around garden furniture or shingles off your roof, then there may be dangerous debris on your property, like roofing nails. Wear thick-soled shoes as you walk around outside to prevent a stray nail from penetrating your foot.
Call Your Home Insurance Company
You have home insurance for a reason: to use whenever damages from a natural disaster exceed the cost of your insurance deductible. Don't hesitate to call your home insurance company as soon as possible. If the hail storm affected a large population, getting a claims adjuster to inspect your home will take longer if you wait because they will inspect homes on a first come, first served basis.
Inspect the Damage and Take Notes
If you don't experience hailstorms much then you might not be prepared for the damage it can cause. Make sure to examine your home while writing down what has been damaged so you can bring it to the attention of your insurance claims adjuster and call the correct contractors, such as a roofing contractor, to help repair the damage.
It may be dangerous to inspect your roof once it has suffered damage from hail, so leave the inspecting to a professional instead. Your insurance adjuster will assign a field claims adjuster who can work together with a roofing contractor to find all the damage on your roof and estimate the cost to repair or replace it.
Check for Leaks in the House
One of the nastiest forms of damage that could occur after a hailstorm is leaking. This is often caused when your roofing is penetrated by hail stones. When the roof is compromised it may leak and cause the wood trusses and underside of the roof deck to grow mold. Sometimes the leaks are slow and may go unnoticed for weeks. Most often the leak won't even start for months or years because the hail strikes only partially penetrate the roofing material but deteriorate into a full hole over many seasons.
If you've noticed leaking then it's important to contact a specialist for hail damage repair as soon as possible. Further exposure to water could lead to irreparable damage to your home and it will be more expensive to fix in the future.
Contact a Specialist
Once you've ensured that the immediate area is safe and you've performed an initial visual inspection of the interior and exterior of your home, you can then contact hail roof repair specialists. The purpose of the visual inspection is to get a good idea of what's damaged around your home so that you can let the specialist know before they arrive. However, it's understandable if you can't reach your roof to inspect it before the hail damage repair services arrive. Don't hesitate to call Deschutes Roofing at (541) 241-5720 for any hail damage repair needed or a free roof inspection.